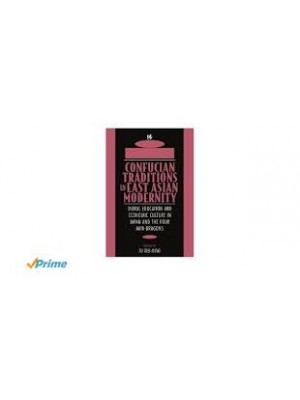 Confucian Traditions in East Asian Modernity: Moral Education and Economic Culture in Japan and the Four Mini-Dragons
5,700.00 RSD
Bez PDV-a: 5,700.00 RSD
"
How Confucian traditions have shaped styles of being modern in Japan, South Korea, Taiwan, Hong Kong, and Singapore presents a particular challenge to the intellectual community. Explorations of Confucian network capitalism, meritocratic democracy, and liberal education have practical implications for a sense of self, community, economy, and polity. Seventeen scholars, of varying fields of study, here bring their differing perspectives to a consideration of the Confucian role in industrial East Asia. Confucian concerns such as self-cultivation, regulation of the family, social civility, moral education, well-being of the people, governance of the state, and universal peace provide a general framework for the study. The Confucian Problematik-how a fiduciary community can come into being through exemplary teaching and moral transformation-underlies much of the discussion. The contributors question all unexamined assumptions about the rise of industrial East Asia, at the same time exploring the ideas, norms, and values that underlie the moral fabric of East Asian societies. Is Confucian ethics a common discourse in industrial East Asia? The answer varies according to academic discipline, regional specialization, and personal judgment. Although there are conflicting interpretations and diverging perspectives, this study represents the current thinking of some of the most sophisticated minds on this vital and intriguing subject.
Conceived by four of the most influential art historians of our time, this groundbreaking book has now been updated and expanded to include the most recent developments in contemporary art. The original authors have been joined by David Joselit to provide the most comprehensive history of art in the twentieth and twenty-first centuries ever published.
More than 120 articles are presented in a year-by-year structure, with each focusing on a crucial event—from the creation of a seminal work to the opening of a major exhibition—to tell the myriad stories of art from 1900 to the present. Key turning points and breakthroughs in modernism are explored, as are the antimodernist reactions that proposed alternative visions of art and the world. The book's flexible structure and extensive cross-referencing allow readers to follow the many developments in the art world, from the influence of surrealism to the emergence of minimalism. A four-part introduction outlines the methodologies governing the discipline of art history, and two roundtable discussions examine the questions raised by the past while looking ahead to the futur
"